Petaluma Living
Whether you are visiting, living, working or operating a business in Petaluma, no other San Francisco Bay Area location can compare to the advantages that Petaluma has to offer.
Location
Petaluma is located in Sonoma County's Wine Country just 39 miles north of the Golden Gate Bridge. Centrally located on Highway 101 and the east/west artery Highway 116, Petaluma is an ideal headquarters for exploring Sonoma County's 140 wineries, the dramatic Sonoma Coastline, Point Reyes National Seashore and California's redwoods. All only a short jaunt from Petaluma. Mileage From Petaluma.
Geography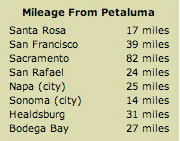 The Petaluma River is the heart of the city.
The historic downtown flanks the river and lends itself to the authentic Victorian charm of the city. To the east are the city's newer neighborhoods and shopping centers. Surrounding the city, dairy ranches and hayfields provide the much-appreciated open space, which rises to hills on both sides of the valley.
Climate
Petaluma' s temperate climate is as close to perfect as possible without boredom.
Summerti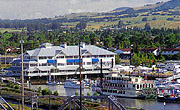 me is dry, it almost never rains from late spring to late fall. Days are warm with temperatures ranging from 65 to 85 degrees, while nightly ocean breezes guarantee pleasant sleeping. The average humidity of 66% makes an air-conditioned home in Petaluma a rarity.
Wintertime has pleasant days and chilly evenings. Temperatures range from 35 to 60 degrees during December and January. An average annual rainfall of 25 inches assures green country sides.
Easy Access to All Highways & Airports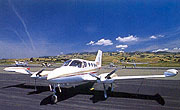 Getting where you want to go is easy from Petaluma. Located just north of Marin County, Petaluma straddles Highway 101 for north-south accessibility. Highways 116, 12, and 37 offer convenient access to Interstate 80 for east-bound travel. San Francisco, San Jose and Sacramento are easily accessible. Flying important people and cargo in or out of Petaluma is never a problem. Our excellent, full-service municipal airport is equipped with a 3600-foot runway to serve aircraft ranging from helicopters to business jets. Nearby Sonoma County Airport offers frequent commuter flights to San Francisco International Airport. The Petaluma River provides commercial and pleasure vessel access to the heart of the city.
Relaxed Commute Reduces Stress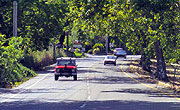 There is no gridlock in Petaluma. Getting to work here is about as stress-free as it gets. Low-impact commuting means better work performance and better morale. You and your employees arrive at work fresh, not frazzled. Petaluma is conveniently located for a broad base of employees. Many Marin-based companies relocated here after discovering that a large percentage of their work force was commuting from Sonoma County. Because the reverse commute is relatively relaxing, it is no problem for executives or urban- oriented employees to commute from Marin or San Francisco.